• Friday, November 28th, 2008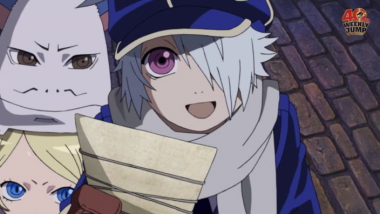 This really could work out. Letter Bee (Tegami Bachi) the manga has already been licensed by Viz and the special short has been shown earlier in the Shounen Jump road tour in Japan. This new anime adaptation is not official yet, but it's likely.
You can watch the Letter Bee special mentioned above here. It is sub-titled already, but you will need to download the special Shounen Jump player to watch. After that hit watch and then open/save. You may want wait a bit before playing the file.
Letter Bee has been compared to D.Gray-Man and there are some similarities, but this series is really styled well and the characters are more likable, though. There are five volumes of the manga published in Japan, so there will be enough material for at least a good season (or two). Just hope it does not go so long as D.Gray-Man. The voice acting is very pleasent in the special, even Lag's.
Cool points are scored by Lag's name, his gun (which clearly looks like it was meant to be much longer), and the abuse of various shades of purple with blue colors.